Clean Drinking Water for CKDu Impacted Community in Ulpathwewa Village
The Marine Engineering Society (MRES) combined with the Department of Marine Engineering (DOMR) installed a new Reverse Osmosis (RO) water purification plant at Ulpathwewa Raja Maha Viharaya, Ulpathwewa, Kanthale on 23rd August 2022.
Ulpathwewa is a rural village in Kanthale. There are approx. 200 Sinhala, Muslim and Tamil families struggle to live with minimal infrastructural support in this rural village. Finding a drop of clean drinkable water was one of the biggest challenges these innocent villages were facing. Realizing the need, members of MRES launched a gigantic mission under the guidance of Commodore (E) MCP Dissanayake, HOD (Marine Engineering) to install a water purification plant to serve the innocent public in Ulpathwewa village.
Accordingly, this CSR project was initiated with a donation received from Dr. Upendra Bopitiya who lives in New Zealand currently. The society was able to cover a major portion of the total cost of Rs. 1.5 Mn from this generous donation. The assembly of the plant was undertaken at the Marine Engineering laboratory, KDU by the MRES members and DOMR staff and later it was installed at Ulpathwewa Raja Maha Viharaya which was identified as the best location with better access.
Chronic Kidney Disease of unknown etiology (CKDu) is a complex form of the disease and disables kidney function. Further, it will become a health catastrophe in Sri Lanka and prevalent in the North Central Province (NCP), Northern, Uva, and Wayaba provinces. CKDu has become a serious health issue, which affects especially a farming community in the area. WHO has recommended several measures to control the disease and providing of safe drinking water is vital amoung them.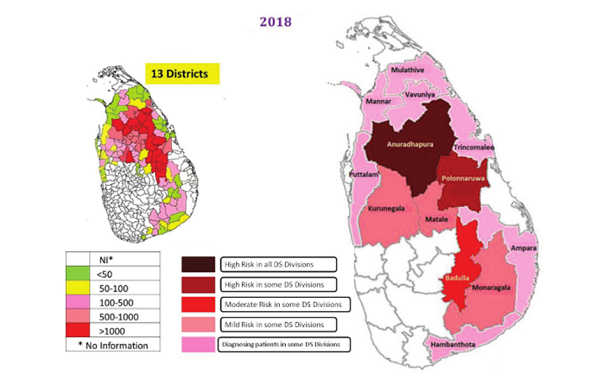 CKDu Prevalence in Sri Lanka 2018
According to WHO recommendations, the government of Sri Lanka decided to supply safe drinking water to the affective community through Brackish Water Reverse Osmosis (BWRO) plants. Subsequently, an established Community-Based Organization (CBO) to provide safe drinking water for impacted areas on a payment basis.
However, Sri Lanka Navy (SLN) being pioneered in Reverse Osmosis operation, a team of SLN engineers led by Commodore (E) MCP Dissanayake designed a Blackish Water Reverse Osmosis (BWRO) plant in-house with lowered manufacturing cost which enabled to supply safe drinking water for the impacted communities free of cost, to reduce further CKDu prevalence in Sri Lanka. Since then, more than 950 plants has been installed all over the affected areas and the country has been succeeding the mission of reducing CKDu prevalence in the country to a significant extent.


The motive behind this MRES's activity is also to be a support to national mission of CKDu prevalence in the country.